It would not be human not to take a short break to enjoy a win.
However, this is just a battle.
Because all that was accomplished last night was to give the independence movement a struggling chance to achieve its goals again by taking back some degree of control over their main political arm by an intolerant, extremist, enterist group that pursues other goals, with no real interest in independence a principle.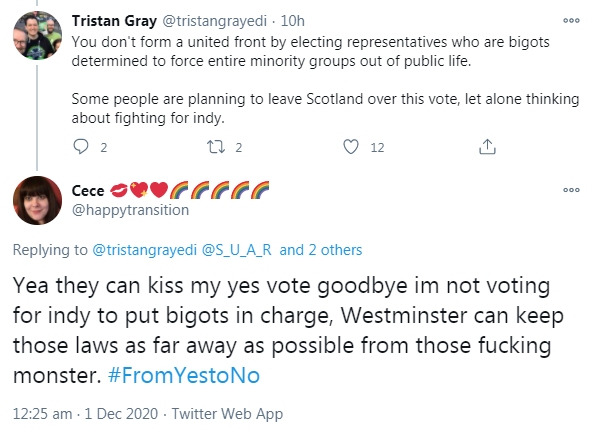 (And who knew that the actions of trans activists up to this point were actually a demonstration of "reconciliation"?)
Last night's anger over a simple expression of democracy was telling.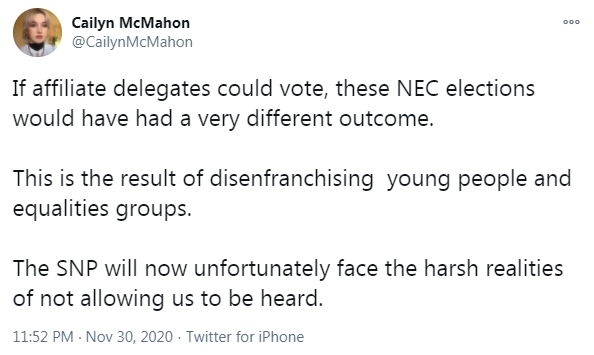 The second one, which comes from the organizer of the hyper-awakened, trans-conquered Young Scots for Independence faction, is particularly telling. It does not sourly complain that all membership had no vote in the NEC elections, but that some over-represented "constituents" (ie theirs) were not given special voting privileges that would have enabled them to override them the wishes of the broader party.
The way in which small but determined groups of participants with a particular interest manage to conquer large organizations is based, for example, on the NEC elections, in which only a few hundred conference delegates (out of tens of thousands) can vote.
If you're stealthy and dedicated, you can effectively carry out a coup d'état on a microscopic fraction of an organization's membership by simply showing up to branch meetings that most people don't deal with, nominating your staff as delegates, and then jumping into the ambush at the conference.
The difficulty with this strategy is that it will only work as long as you can hold on to the force that you are grasping. You can't get the same surprise twice because people pay attention and see you coming. The transactivist factions are so angry today because they know the game is on and there is no going back.
Cailyn McMahon was, of course, one of the signatories of the appalling letter against Joanna Cherry, Joan McAlpine and others on Friday. Sane people in the SNP probably owe a substantial debt to whoever compiled this letter.
Its content was so toxic that it couldn't have been better for the "gender critical" movement. Many of the NEC votes were won by a narrow margin – the terrible Fiona Robertson, for example, was ousted as Equalities Convener with just 62 votes.
It doesn't seem like a wild leap to imagine that a significant number of people were sufficiently appalled by the letter when this page was released on Friday night – Wings undoubtedly had HUGE traffic, and even more so on Monday when they covered Joanna Kirschs Fight – to wake yourself up, to vote against your followers, and to upset your balance in a key number of tight competitions.
The proximity of the power struggle was indicated by some of the seats that the lively faction clung to. Graham Campbell, another shameful signer of the backward fired letter from the aggressive transfaction, held his position as BAME convener against the brilliant young woman Sameeha Rehman, for example, with just six votes out of nearly 2,000.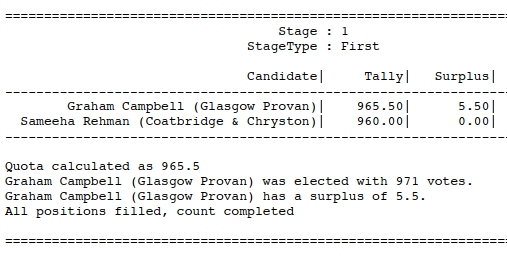 Amazingly, someone who is currently suing the party (who was unable to attend the conference on the opening day) was also close to being elected to his top role, that of National Secretary. David Henry lost only 48% to 52% to Stewart Stevenson after only two rounds of transfers to go.
(By the way, Craig Murray also did a very commendable performance for the ceremonial position of party president, earning a quarter of the vote against the very popular veteran Mike Russell.)
So we should have no doubt that the elections could very easily have turned out to be much worse. Last night's victory for sanity and decency as well as women and gays is worthless, but it had to be won if there was any chance of saving the party and the campaign for independence.
Responsibility is now firmly shifting to those elected last night – Joanna Cherry, Caroline McAllister, Douglas Chapman, Neale Hanvey, Dot Jessiman, Catriona McDonald, and more – to harness the power SNP members unite them in Key positions given in order to redirect the party towards its primary goal. There is still time. The good guys now have a clear majority in the NEC, and that side will keep their actions under the same control as their predecessors.
But for the first time in a long time, the grassroots movement SNP and Yes are feeling hope this morning. It was a good day in other ways too – Keira Bell won her landmark court case, the implications of which will be widely debated in the coming days. And as we write this, we are also watching a very interesting session of the Salmond Inquiry that is being held at Holyrood.
Hope is a fragile thing, but it is precious. Just for today let's enjoy it.