Gun fired, smoking everywhere
The Scottish Parliament website just posted a letter from Peter Murrell after appearing on the Salmond Inquiry yesterday.
The media is focused on Murrell's continued bypassing the issue of his WhatsApp usage (Murrell bizarrely states that he has multiple messaging apps installed on his phone but isn't using any of them), but there's a lot in the second of the two sections of the letter more interesting reveal.
This is a direct, straightforward and categorical statement from the First Minister that the investigation into the false allegations against Salmond was a matter of the Scottish government that had absolutely nothing to do with the SNP.
Her failure to record the use of her private office in the Scottish Parliament to discuss the matter on March 29, 2018 (despite repeated refusals that such a thing even happened) and to take minutes of this discussion and subsequent meetings at her home Look at the problem, and her numerous statements that it was a private-party deal (which Murrell has now identified as false) are therefore undeniable breaches of the Ministerial Code.
The network is getting tighter.
.
[EDIT 3.43pm: We're informed, interestingly, by an SNP member that despite Murrell's statement that the above email was sent to "all members of the Scottish National Party" on 27 August 2018, no such email was in fact received by them on that date.
They did get a DIFFERENT email, with the same title, three days earlier, which also made it plain that the investigation was being conducted under the auspices and procedures of the Scottish Government, not the SNP. We attach that email below.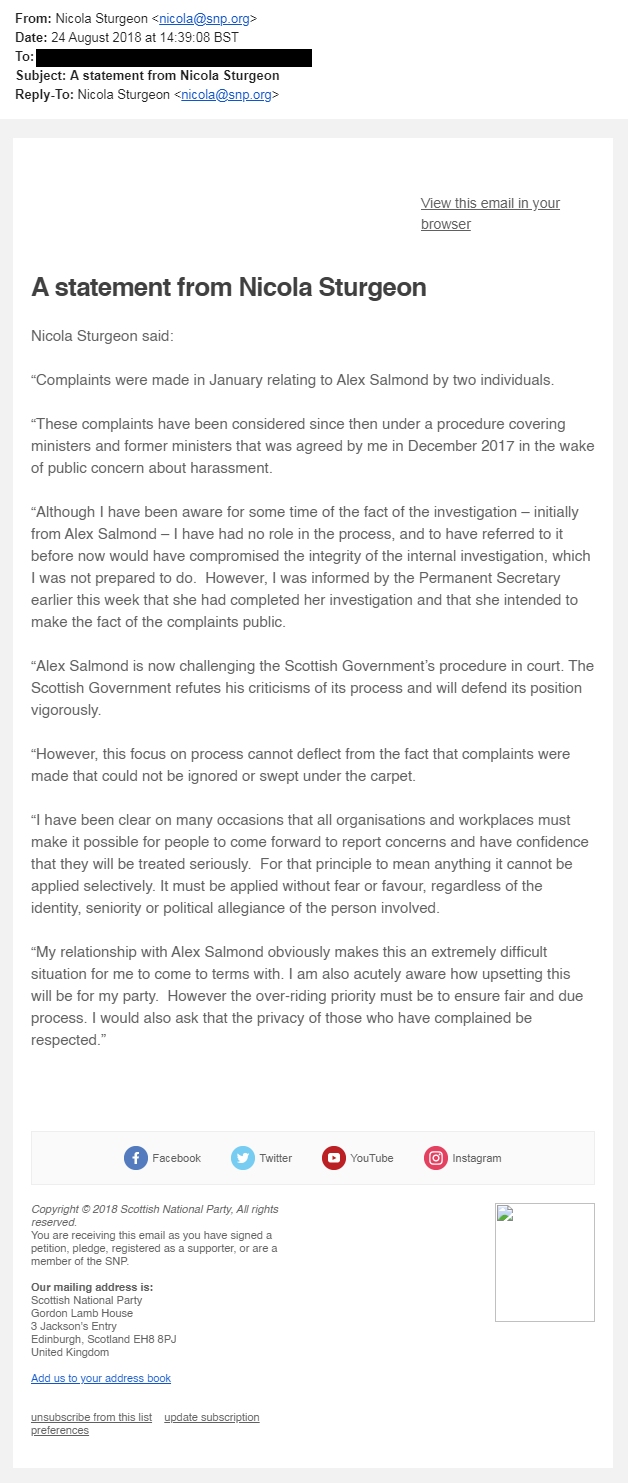 There was also a statement released by Nicola Sturgeon in a tweet on 26 August 2018 which contains some of the same text as that quoted by Murrell.
If any SNP members can verify that they received the 27 August 2018 email described in Murrell's letter and can forward it to us, please drop us a line.]