Mr. Peter Murrell: a correction
On December 8th, an article was published on this website about the Chief Executive Officer of the Scottish National Party, Peter Murrell. We were recently made aware that there was a serious inaccuracy in the piece that we would like to fix.
Because, as it turns out, Peter Murrell is a liar.
This is a passage from his evidence to the investigative committee last week: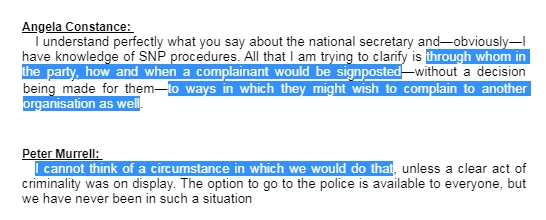 What Murrell says there is that if someone had a harassment complaint about an SNP-MSP, there are no circumstances in which that complaint would be directed to an organization outside of the SNP (unless it was a police matter).
But we know that is not true because we know that is not what happened in the case that was used as the trigger for the policy that Alex Salmond was investigated into – that of Mark McDonald.
When a complaint was filed against Mark McDonald in 2017, it was first dealt with by the Chief Minister's Chief of Staff, Liz Lloyd – an employee of the Scottish Government who does not hold an office in the SNP. (We have no idea if she is a member of the party at all.)
(We might note, by the way, Lloyd's… interesting approach to conflict resolution: "I heard you might have done something bad, but I'm not going to tell you what it is. So tell me some bad things that you think you might have done You did it, and I'll let you know if it's one of those. "A cynical person might suspect that they knew what they had, was absurdly weak, and was fishing for something better.)
Murrell also said Jackie Baillie regarding a letter from the SNP informing members about how historical complaints can be made: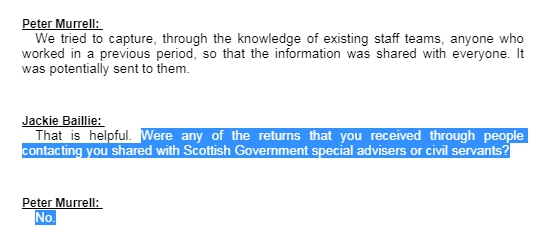 But "Special Advisers or Officials of the Scottish Government" is exactly the category of person that Liz Lloyd belongs to, as it is both.
Murrell also told the committee: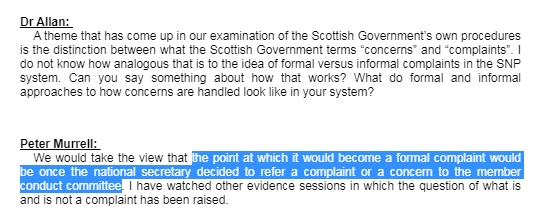 But that's not true either, because Mark McDonald was never referred to the SNP Member Committee (or, as it was known at the time, the Disciplinary Committee) for harassment issues. After he resigned as a minister at the beginning of November 2017 because of a text message he had sent to an SNP employee, the First Minister herself suggested that his behavior did not deserve such a drastic step.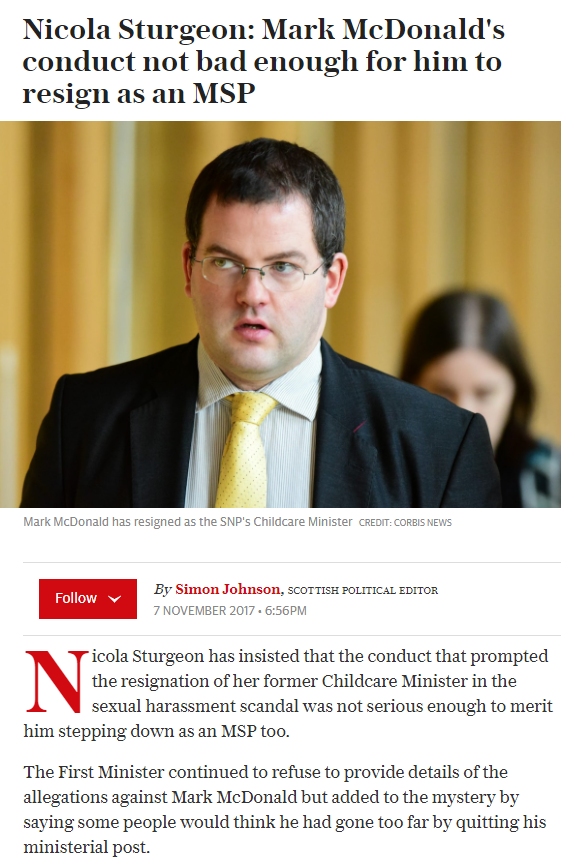 McDonald was not suspended by the party until nine days later when it received "new information" leading to the exposure of a minor financial irregularity when another employee ("Witness B") had paid a rental deposit of a few hundred pounds for him and was becoming repaid three weeks later.
However, this fact was NOT exposed by the SNP Disciplinary Committee as the SNP Disciplinary Committee was never involved in the process. In fact, the investigation for the party had been conducted by a private investigative firm – none of the complaints ever came close to the proper SNP channels suggested by Murrell.

(Witness B did not want to participate in the investigation at all.)
It stays like that The only type of "harassment" that Mark McDonald was found guilty of was the posting of a single extremely harmless text make a joke about his iPhone's auto-correction, which Witness A had the most extraordinary and absurd overreaction to for helping to get her hospitalized.
All other allegations made by her – and by James Dornan MSP, who actually filed the complaint on her behalf – were investigated by the Commissioner for Ethical Standards in Public Life in Scotland in 2018 and found to be false. In fact, some were found to be physically impossible, which – in the delicate language used in such reports – suggests that Witness A and James Dornan are simply lying.
One of the more bizarre aspects was that Witness A claimed that she was so "excited" at the sight of McDonald – even though it was physically impossible for her to see him – that they did not even face the seemingly arduous prospect of a two could. Minute cab ride from Holyrood to Waverley Station, instead he called a friend and had him take a 45-minute drive from Motherwell to pick her up.
(This was all BEFORE the alleged harassing texts were sent out later that evening. No actual evidence was presented to the committee as to why Witness A would feel "excited" at the sight of McDonald's sometimes at the same time before receiving the text messages in the restaurant or in the lobby of Parliament and she found it kind of suspicious.)
Dornan couldn't even clarify his story when he related how the complaints had been brought to the SNP.
(The committee also expressed grave displeasure at Dornan's repeated loss of information related to the investigation, which contributed to the enormous and ongoing media smear campaign against McDonald.)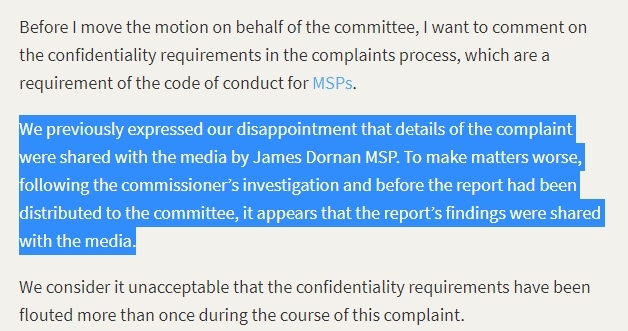 However, it is perfectly clear that both the McDonald's investigation and the media smear campaign were just dry runs for the ultimate goal. Without the bogus finding of harassment against Mark McDonald, there would have been no leaf to justify creating the rules that unlawfully attacked Alex Salmond (and which, despite an alleged epidemic, have never before or since been used against anyone else in sexual harassment Houses of Parliament).
It is in this context that Peter Murrell's evidence for the Holyrood investigation should be properly considered. Because in order to cover up the truth about the conspiracy against Salmond, he also has to lie to cover up the events that (deliberately) led to it.
The investigation would like to remind Murrell to re-question him about the many inconsistencies in his evidence. We don't know yet if this will be the case, but we hope that some of these problematic issues can be cleared up.