And tell you it's raining
If this site seems to be spending most of its time these days being angry with the SNP, it's because we are. And a big part of it is that there is very little that scares us off more than people who offend our intelligence.
Smith's tweet is just a grossly insulting lie. This week's vote is NOT about "EU membership". The UK ceased to be a member of the EU on January 31st. We have already left and there is no turning back. The vote is about whether we are leaving with part of a trade deal that will do little to reduce the harm we have inflicted, or with a total disaster of no deal at all, and it is just extremely embarrassing for all involved that Smith does so thinks little of his own followers like believing that he can "frame" it differently.
Voting against the deal is a bad strategy, not because it has the slightest influence on whether or not the deal comes about, but because it gives the unionists such a big open goal to point out the grotesque and overt cynicism.
If you give free hits to lobotomy patients like George Foulkes, Braden Davy, and James Cleverly, the world's most ironic man, you're selling the jerseys. Because while they are total idiots, they are absolutely right this time around, as the BBC's Philip Sim pointed out in a well argued thread this morning.
The only options on the table are the deal or no deal, and if you vote against the first, you inevitably vote for the second, and all but the darkest, friendliest SNP loyalists can see that.
Speaking of whom:
That argument is a bit like standing on the deck of the Titanic while they lower the last lifeboat and say, "Oh, what about that big iceberg hole? We'll fix it when we're in New York. Look how luxurious our cabins are! "
Because by the middle of next May, the options of the SNP will have been limited to almost none. If they get their large majority, ask Boris Johnson for a Section 30 again, and are told to push it again (as they wish) then the worst place we can be is five years away from another election because one choice is the only thing that the SNP can practically control.
Section 30 is the gift from Westminster. An "illegal" referendum (copyright Nicola Sturgeon) is controlled in practice by local councils in which the SNP does not have a majority. The legal status of a referendum is in the hands of the courts (and may have been decided long before the election – Martin Keatings' case is due in court in just three weeks).
The only thing the SNP can do that is not dependent on the cooperation of another is to hold a general election in a one-line manifesto of a referendum. And if you just had a choice and you did NOT do it, you really have a hard time finding any other meaningful action that will be available to you until the next election.
In theory, you could dissolve Parliament and call another election, but (a) this is a really terrible idea because voters would be extremely unhappy about it, and more importantly, (b) the UK government could just step in and prevent them, because she retains her sovereignty. The Northern Ireland Assembly was suspended for three years from 2017 to 2020, and the UK Parliament took over decentralized affairs. Nothing could stop them from doing the same to Holyrood if they wanted to.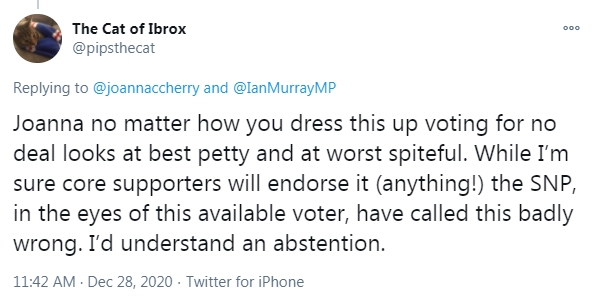 But a party that is still trying to tell people that a vote is due on whether or not the UK will leave the EU is not a party that can face a reality. And when the rest of us sit back, relax, and turn a blind eye, we will deserve what we get.