An open letter to Douglas Chapman
TO: Douglas Chapman MP, National Treasurer, SNP
DATE: January 8, 2021
Also sent by email
Dear Douglas,
Congratulations on your recent election as treasurer of the SNP. You may not know that this website asked your predecessor in the role of Colin Beattie some questions in October 2020 on the subject of the supposedly "fenced-in" Indyref Fight Fund, which was created through donations to two separate fundraisers – jointly by the party as a year earlier Referendum Appeal Fund or RAF.
We did this on behalf of numerous SNP members and non-members who had donated to the two appointments and were concerned about the whereabouts of the funds.
Wings, or several individual donors who also reached out to Mr Beattie and asked the same questions, did not receive a meaningful response, and some of these people (as well as some of your chosen colleagues) asked us to ask you the same questions publicly. Now that you have had a few weeks to find your way around your new position and understand that you are interested in finding the answers.
The first question is simple and if the proposal it contains were adopted it would bring everyone else up for discussion and bring the matter to an immediate and most satisfactory conclusion. I hope this will only take a minute.
——————————–
(1) SNP currently owns the old brand, website and company Yes Scotland which is still active. It appears to be controlled by party attorney Scott Martin.
To avoid future confusion, the SNP is not simply transferring all of the RAF to Yes Scotland's account and redirecting future donations through the yes.scot website to the company's account rather than the SNPs.
This would create a visible separation between referendum funds and political SNP funds. Anyone whose main concern was independence could donate money to Yes Scotland for this purpose through the yes.scot website, while anyone primarily motivated by queer theory, thought crimes, prevented people from getting two-for-one pizzas , and former First Minister imprisoned for crimes not obliged to donate to the SNP via his own existing donation page, which is located here.
There would be no need for tangible administrative costs – yes, Scotland would have only one source of income (donations), no expenses (until the second referendum, of course) and Mr Martin's only job would be to submit a simple brief statement of his balance each year what he has to do now anyway. It seems like an obvious, elegant, and complete solution.
——————————–
Should the above proposal be rejected for inexplicable reasons, the following questions arise:
(2) If the RAF is actually fenced in and available "short-term," why doesn't the SNP simply label it as such in the accounts and avoid all this confusion and bad feeling as suggested by SNP Council member Chris McEleny?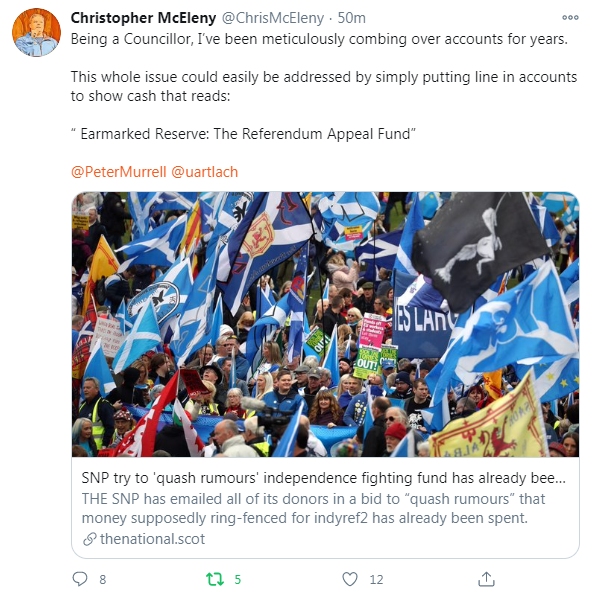 (3) Why isn't it published as a live running total on the yes.scot website, as was the case with the ref.scot 2017 fundraising campaign? Is there a reason it should be secret? Certainly it would boost the morale of the entire yes movement to know without a doubt that a healthy fighting fund is ready for immediate use.
(4) How did it happen that the money in the RAF was "woven" through the accounts in various unexplained places, since everything only comes from two sources – the fundraising campaign for ref.scot 2017 and yes.scot for 2019 – and the SNP apparently knows exactly how much is in there? Why shouldn't all of these funds come under the same category?
(5) The yes.scot website stated that all donations will be used to create a book entitled "An Independent Scotland: Household Guide" which will be distributed to every household in Scotland. It now just contains a general statement that donations will be used to provide "yes activists" with "materials".
Which of these things is now the case?
(6) Are all donations still forwarded to the RAF through yes.scot? If so, in which area of ​​the SNP accounts would they be included? Donate? Prepayments? Some others? If they are NOT forwarded to the RAF, what date has it changed?
(7) What was the balance of the RAF on December 31, 2017, December 31, 2018, December 31, 2019 and December 31, 2020?
(8th) The total net working capital of the SNP amounts to just under 272,000 GBP according to the 2019 annual financial statements. Then how can the party claim to have a fund of nearly £ 600,000 that can be spent "short term"? Is it being kept "out of the books" in any way? Or is it some type of loan or an overdraft facility? And if the latter is the case, what was the donor's actual money spent on?
(9) Given that questions were asked about this money back in January 2019, and the matter has been detrimental for almost a year now, we can hope for a more transparent approach from you than your predecessor, and if so, how soon can we have some answers expect? What measures have you taken so far?
On behalf of your affected members and donors, I look forward to your response.
Greetings,
Stuart Campbell
editor
Wings over Scotland