This is a significant development. (Click to enlarge.)
Oddly enough, we're not sure how many members are currently on the Holyrood Inquiry Committee. Usually there are nine – four SNPs and five oppositionists – but since Andy Wightman recently resigned from the Greens, we don't know whether he is still on the committee or not, as he was originally there as a Green candidate. If not, we don't know if, when or by whom it will be replaced.
The other four non-SNP members tonight formally requested that James Hamilton, who is conducting the other investigation into Nicola Sturgeon's actions in connection with the Alex Salmond affair, be formally ordered to investigate whether they were lying to Parliament Has.
This, of course, is a topic that Wings has been covering for some time.
Mr Hamilton's original brief, written by Deputy First Secretary John Swinney, only directed him to determine whether Nicola Sturgeon had attempted inappropriately to intervene in the investigation.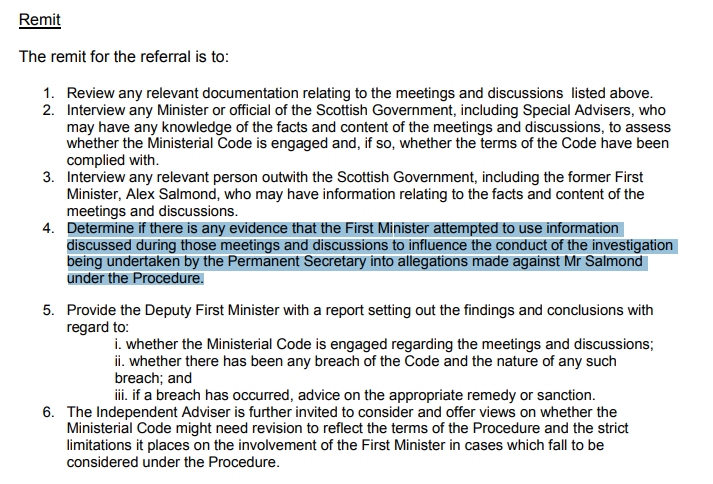 However, as we noted earlier, it is a red herring that no one really cares about and it is most likely not a violation of the Ministerial Code, as it is indeed their duty to ensure that the investigation is proceeding legally – a point this has been carefully considered in Made Alex Salmond's statement to Mr. Hamilton, which we published in full exclusively on Friday evening.
Subsequently, both the First Minister (on October 29th last year in Holyrood) and her Deputy (in what is now BBC Politics Scotland) have stated that they believe that the mandate already covers the entire Ministerial Code, including the question whether she was misled Parliament.
This view was also expressed in somewhat evasive formulations by the Scottish Government in a response to freedom of information on this website last month.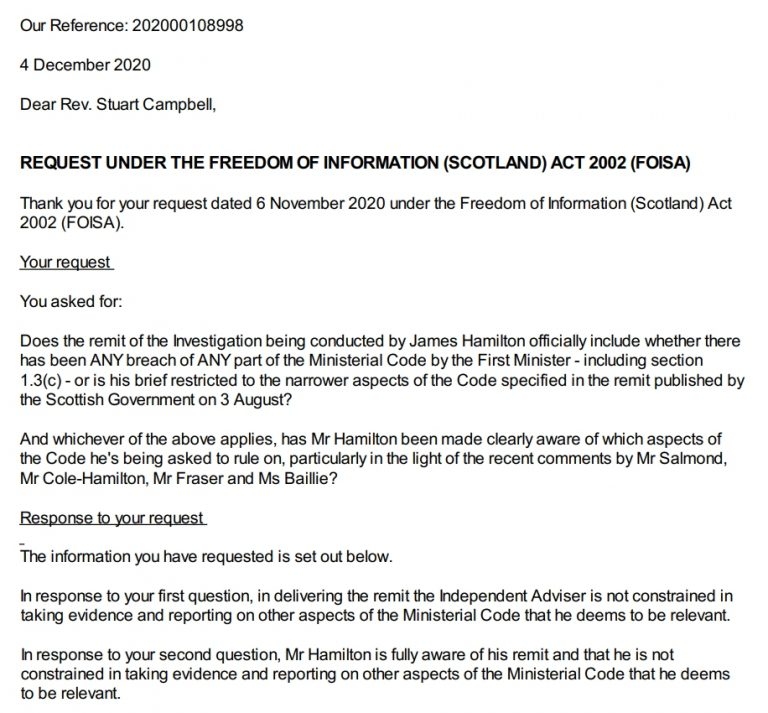 The reality, however, seems to be that these statements are meaningless at best and deliberately cynical lies at worst. Indeed, according to today's letter from committee members, Mr Hamilton will NOT have proper authority to express an opinion on alleged misleading Parliament unless specifically directed to do so by Mr Swinney.
(Sources close to the investigation have said the same thing to Wings.)
Now two things can happen:
(1) John Swinney may comply with the committee's request and expressly instruct Mr. Hamilton to investigate the information provided in Mr. Salmond's statement. After all, he would only formally clarify what he and the First Minister say is already the case, so there would be no possible reason not to.
(2) He can refuse, which is absolutely evident and undisputed, that when he and the First Minister said that they already considered Mr Hamilton capable, they were deliberately misleading voters – and, in the case of Sturgeon, ironically, misleading Parliament – with their testimony knew it was wrong and raised the very grave question of why the First Minister and her deputy do not want these allegations to be investigated, and why they are again obstructing the committee in its work despite promising total cooperation .
We await Mr Swinney's response with great interest.