Listen, the snow is falling
We know we've already given you a lot to digest this year, readers. But spare yourself a thought – trying to keep up to date on the rapid developments in Scottish politics in the first eleven days of 2021 was more like trying to tunnel our way out of an avalanche while it was still happening .
We had a bit of work to even find a free moment to push in the cartoons. But today's task seemed to be one of the most challenging of all.
Because for today's session of the Holyrood investigation into the Alex Salmond fiasco, the public newspapers are a box of dangerously unstable hand grenades of 11,000 words that we must try to somehow break down into something succinct and readable while still conveying the sizable Size of their content.
They consist of two main sections – a written submission by Mr Salmond to the committee (completely separate from the one he sent to the Hamilton Inquiry last week) and a slightly less edited version of a document that the Scottish Government would deliver in less than a day published and a half before Christmas in the hope that no one would notice.
We can leave the first of the two to you to read for yourself. Mr Salmond's statement is written in more or less plain English than impenetrable law and is easy to understand. One aspect of particular note, however, is that it was edited – against his will – by parliamentary officials who deleted essential sections that even the committee is not allowed to see.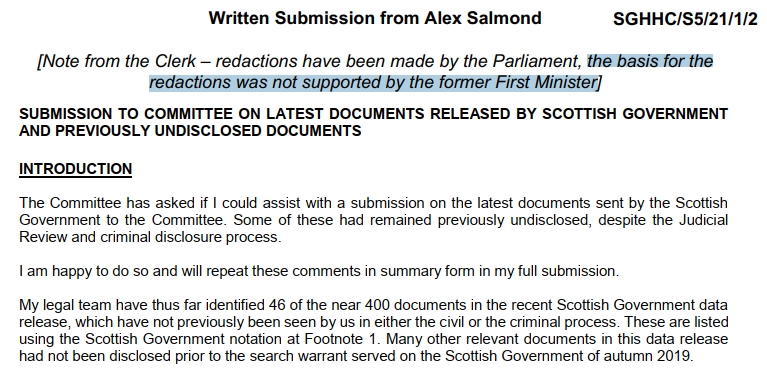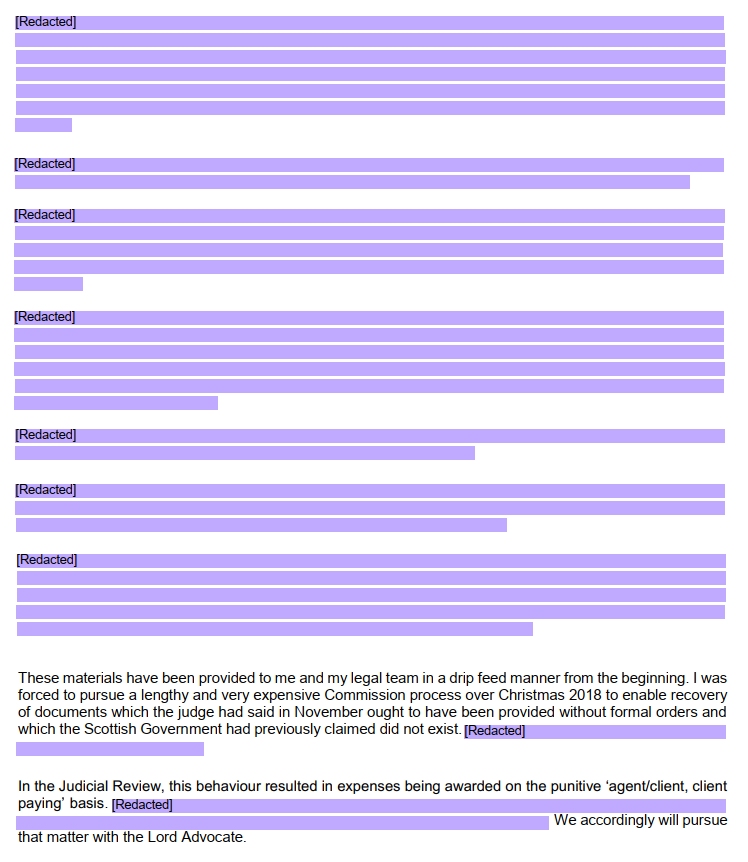 We could pause there, only to raise another weary eyebrow at the latest after a countless number of betrayals of the First Minister's hollow, worthless promise two years ago that the committee would get whatever it asked for without interference or refusal.
Mr Salmond's evidence raises so many questions that detailing and examining all of them would result in an article the length of War and Peace. We leave it up to you to come to your own conclusions and only cover a few random highlights:
In the second main section, the new version of the Christmas Eve document, most of the previous editorial offices (in red) are replaced by "paraphrased" summaries of the edited elements provided by the Scottish Government.

For example this bit from the Christmas Eve version:

has now become:

(Rephrased: "We were caught shaking our asses, and our lawyers insulted us so violently and for a long time that we cried and ran away.")
And this rather minimalist fragment:
has now expanded to this:

(Rephrased: "Lord Pentland verbally abused our lawyers on such a violent and lengthy matter that they came out and abused us even more.")
But attentive readers will have noticed from this last one that not EVERY editorial in the Christmas Eve document now includes a summary. Above all this important question of how the Scottish Government had to admit judicial review because if it weren't, their QCs would expire:

And while we speculate, of course, we strongly suspect that it is difficult to sum up the phrase "and especially your duty not to lie to the trial court, even if the client so wishes" in a way that doesn't entice you deep doo- doo.
To make a long article unexpectedly short, it looks like the Permanent Secretary – now on her third or fourth appearance in front of the committee to "clear up" the shoemakers with whom she tried to fob it off – is at the interrogation still feels most uncomfortable. We will of course watch on your behalf.