There is literally nothing not to be embarrassed about:
The only challenge is knowing where to start.
First, let's suppose there is the little fact that The entire bloody SNP is supposed to be an "independence task force" all the time. The party wasn't meant to be a vehicle for Nicola Sturgeon to take selfies while doing some of the administrative tasks Westminster had assigned him.
Second, there is the revelation in the paper-thin article that this "task force" actually consists of a person (identity yet to be revealed) who will work with "existing collaborators and strategists" when, for inexplicable reasons, this was not the case already done.

But mostly we've heard it all before.
We heard it four and a half years ago when "Nicola Sturgeon pulled the trigger for a referendum on independence in an emergency". That's a slow trigger.
We heard it again nine months later when she "called" the new vote.
We heard it two and a half years ago when we were told that Boris Johnson, who becomes Prime Minister, would hold the second referendum. (SPOILER: He did and it didn't.)
We heard it two years ago when she told us to prepare for Indyref 2.
Shortly afterwards we were informed that the big "showdown" was imminent:
Almost immediately there was an accompanying "new campaign". We have not yet been able to determine whether a "task force" has been assigned or not.
Perhaps there was none that would explain why a month later the new referendum was reset to "within the next two years".
Technically speaking, there are still 15 weeks left, but of course we already know for sure that this deadline will not be met and will not occur before the election. Although she specifically told us it would be.
And that it was "inevitable".
Although that soon slipped to "probably":
Anyway – we had a "new vision" and a "path to victory".
And so, apparently at this point, we started "the greatest campaign ever to make the economic argument" and come up with a "credible" plan for the currency. Does anyone know how that went? These things are now undisputed by anyone, are they?
We were told that the 2019 election was important.
And the Indyref2 absolutely had to happen in 2020.
Because, strangely enough, there would appear to be a Labor government that we could hold as a ransom.
Claims were made in advance. People can't refuse demands, can they?
When another SNP landslide hit, the opposition was ordered to "unite" behind indyref2. (SPOILER: They didn't unite behind indyref2.)
But Corbyn's utter dejection in the election hadn't deterred Holyrood, and it duly voted for another Indyref a second time, with no more impact than the previous time.
In the meantime, a microscopic virus was riding towards Nicola Sturgeon's rescue from Wuhan, China – the first confirmed cases had already reached the UK when Holyrood voted. But even when COVID-19 made its way on the day Scotland played its last international sports match in front of an audience, we were absurdly assured that the vote would take place this year:
By the time the country had already gone through several months of social distancing and self-isolation, the schedule had been reluctantly postponed to "Fall 2021", although there would be no referendum until the fall, even if Boris Johnson had handed us one on a plate the day after May elections – provided there is an election in May.
And the promises were quietly downgraded under the big, screaming, rousing headlines to "Well, we shall have" something some kind of plan within six months, honestly ".
And almost a year after the election, when we were told (again) that a landslide by the SNP would make it impossible for Westminster to refuse, Westminster was still refusing, apparently unaware that theirs were 100% successful Attempts to block a new vote "doomed" were failures ".
Because somehow it's always the NEXT choice that really matters.
It's always the NEXT choice that Westminster can't resist.
Apparently because we beat Serbia on penalties in football.
The cold, hard fact is that the current leadership of the SNP has no more clue how to get a second referendum today than it did in June 2016. But there is apparently an unlimited supply of carrots to dangle from the endlessly gullible donkey, who take every headline in The National as a statement of fact.
There is still little evidence that the donkeys of the carrots are getting tired, garnished by a series of polls whose yes majorities, by an extraordinary coincidence, date almost exactly from the day of the first coronavirus lockdown (and from the day that too who was Alex Salmond) acquitted of all charges in Edinburgh High Court).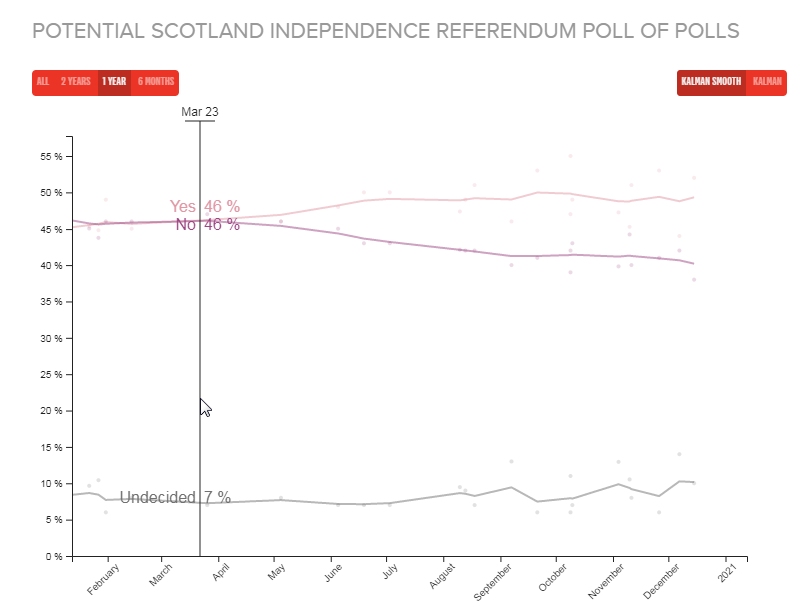 Believers, of course, attribute these polls not to the pandemic, but to the incredible leadership and personal strategic genius of Nicola Sturgeon, despite having been First Minister for over four years at the time without her strategic genius moving on the polls by up to a millimeter.
Should it somehow survive the two investigations into the Scottish government's behavior in relation to the Alex Salmond affair – which is still considered an implausible result on this website – and the SNP to another victorious election and another rejection of Indyref by Westminster it will be fascinating to see this when the carrots still retain their charm.